Meet the OMD Rescue Crew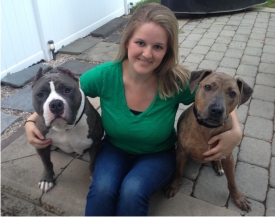 Christie Foster: Rescue Coordinator
Christie has worked with One More Dog Rescue, Inc. since 2012 when she first fostered a sweetheart of a Pit Bull mix named Rockette. She and her husband, Zach, live in central CT and have two rescued Pit Bulls of their own; she is proud to say that one of them, Duke (on the left), is CGC certified and a registered therapy dog. The other, Jake (on the right), is a ham and wants nothing more than to hog the couch, chase squirrels, and chase his elusive tail...but not at the same time. Christie graduated from CCSU with a Bachelor's degree in English and now puts it to use in the enchanting world of insurance. When she's not working with OMD Rescue rescue dogs and adopters, you can find her programing events for her Church's weekly youth group, curled up with a good book, walking with her boys, or trying to keep her gardens alive.
---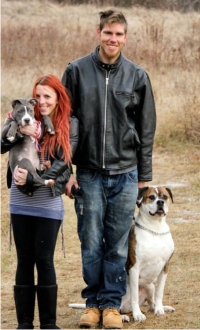 RaeAnne Fraczek: Rescue Coordinator
RaeAnne has been a dog lover from the start. Her parents brought home their first rescue when she was 5 years old, and she has had a house full of rescues ever since. Currently she and her boyfriend, Darek, have two dogs: Hemi, an American Bulldog and Ryder, a Pit Bull mix, who is a One More Dog Rescue, Inc. Alumnus. RaeAnne initially became involved in rescue in 2012 by fostering Pit Bulls for One More Dog Rescue, Inc. At the time she had Hemi and another American Bulldog, Tasha and quickly realized the stigma that is attached to these beautiful bully breeds. Desiring to help, she brought these dogs into her home, wanting to be that step between shelter life and a happy forever. Since then, RaeAnne has taken on different roles within the rescue, from completing reference checks, transporting, conducting home visits and now as an Adoption Coordinator. Outside of One More Dog Rescue, Inc., RaeAnne is an Accounting and Contractor Coordinator for the Connecticut Iron Workers Unions. She spends her free time outdoors, building cars and mud trucks with her boyfriend, riding her quad, and hiking/exploring new places every weekend with her dogs. She is currently working on training Ryder for her Canine Good Citizen test and enjoys spending time with her rescue friends on the weekends, taking pack walks, and being advocates for rescue dogs all over.
---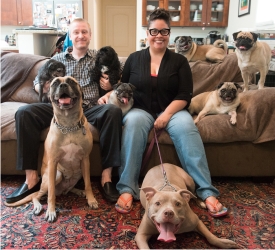 Kelly Dietrich: Rescue Coordinator
Kelly graduated from Hampshire College in 2002 with a Bachelor's Degree in Liberal Arts and now works as a Senior Account Executive for Leo Burnett Advertising Agency in Chicago. Kelly has been surrounded by animals for as long as she can remember and immersed in rescue since 2010 when she began assessing shelter dogs for placement with rescue organizations. In addition to her work with One More Dog Rescue, Inc., Kelly is passionate about saving animals from high kill shelters through volunteer rescue transports and opening her home to foster animals in need. When she's not at the shelter finding new OMD Rescue pups, Kelly loves to travel, try out delicious brunch spots around the city and spend time with her husband Geoffrey and their nine rescue dogs (Otis, Ruby, Percy, Theo, Celia, Midnight, Huey, Koko and Liberty), and their rescue cat, Phoenix.
---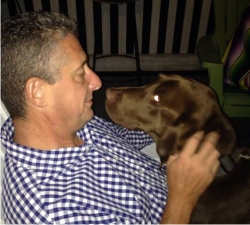 Bob O'Donnell: Event Coordinator
Bob started fostering for One More Dog Rescue, Inc. in November 2012 and most recently took on the role as one of their Event Coordinators. He grew up in Watertown, CT and currently lives in Wethersfield, CT. He has an Associate Degree in Accounting from Post College, a Bachelor's Degree in Management Information Systems from CCSU and currently works as a Sr. Consultant for The Ironside Group. Bob has had many pets throughout the years including cats, gerbils and ferrets, but has always had a love for dogs. Prior to fostering, Bob had adopted many dogs throughout the years: Bodhi (Samoyed), Guinness (Black Lab/Great Dane), Milo (Dalmatian/Husky/Pit mix), and of course his current foster fail - Tommy! He enjoys playing hockey, golf, biking and working with his foster dogs, especially the Pit Bulls.
---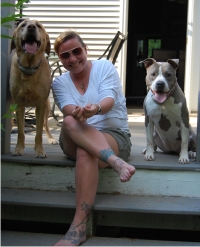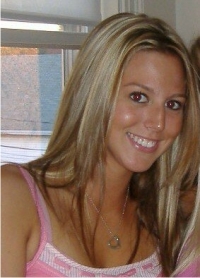 Founders
Jessica Spar and Allison Rezendes
Jessica and Allison co-founded what was originally called Ruff Start Happy Tails rescue in March of 2012 with a single purpose... to rescue dogs and provide care for orphaned, stray, and abused dogs. Their original purpose and passion are still the cornerstones of this rescue today. Both have since moved on from the rescue to focus more time and energy on their growing families.